We are America Today and like you, we celebrate the idea that personality is really an ongoing journey. That's why we offer a variety of stylish, yet timeless clothing designed to keep you feeling comfortable in your own skin even as your world widens. And since you never know what the great, wide world will throw your way, we offer a wide range of flexible yet casual garments, all inspired by the American spirit of casual freedom.
From our signature bomber jackets and chill raincoats to incredibly huggable sweatshirts and a variety of vintage items. All are designed for that same "roll with the punches while feeling great" mentality. That way you can feel confident that the clothes you buy today, will still play a key role in your own personal style no matter where tomorrow takes you.
Our heritage
Since 1989 America Today has been bringing American style icons to customers in the Netherlands, Belgium and Germany. We have a long heritage of being a pioneer of style that represents an America-inspired, rebellious spirit of freedom.
WE ARE INDEPENDENT
We choose our own path and stay true to ourselves even as times change. We're not stubborn or rebellious just for the sake of being different, but we value those who, like us, have thoughtful opinions on things and are willing to share or act on them. Independence is a state of mind.
WE ARE LAID BACK
We have goals and work hard together to achieve them, but we always do so with a relaxed and open attitude towards our colleagues and our customers. We take what we do seriously, but not ourselves. And we make our way through life's changes, and our business challenges with a positive, light-hearted and casual optimism. Because hey, you never know where life will take you next. So enjoy the journey.
WE ARE AWARE
We are connected to the earth and to society as a whole. We demonstrate our awareness of these connections through our commitments in key topical areas such as building sustainability and universal respect for people everywhere.
Our inspiration
We've always been inspired by the optimistic, can-do mentality of the USA. We are intrigued by individuals and individual styles that reflect that certain quiet confidence. How they dress, their unique manner of mixing and matching garments to reflect their own personal style is, in its own way, a declaration of independence. While trends come and go, timeless confidence never goes out of style.
Our brand in a nutshell
Why does our company exist?
To bring the spirit of American freedom to Europe.
What do our customers care about?
Young adults who are evolving their own sense of style and identity.
How do our products and services serve our company purpose and customer desires?
US-inspired icons and relaxed classics designed for free mixing into a dynamic individual style.
Nieuwsbrief
Ontvang 10% korting op je eerste aankoop en als eerste nieuws over acties en trends.
Schrijf je in en ontvang 10% korting.
Ontvang 10% korting op je eerste aankoop en als eerste nieuws over acties en trends.
*check ook je spam inbox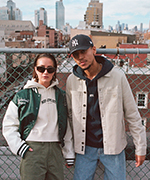 Schrijf je in en ontvang 10% korting.
Ontvang 10% korting op je eerste aankoop en als eerste nieuws over acties en trends.
*check ook je spam inbox
AMERICA TODAY MAAKT GEBRUIK VAN COOKIES
Welkom in onze webshop! Om de ervaring voor jou zo optimaal mogelijk te maken, gebruiken wij cookies. We doen dit om statistieken bij te houden en je voorkeuren te onthouden, zoals je account en je winkelmand. Maar ook voor marketingdoeleinden, bijvoorbeeld om je producten te laten zien die bij jou passen op onze site en sites van derden, via onze advertentiepartners. Door "zelf instellen" te kiezen, kun je meer lezen over de verschillende cookies en je voorkeuren aanpassen. Door op "alle cookies accepteren" te klikken, ga je akkoord met het gebruik van alle cookies zoals omschreven in onze cookieverklaring.
Cookie instellingen
Deze website maakt gebruik van verschillende soorten cookies. Sommige cookies worden geplaatst door diensten van derden die op onze pagina's worden weergegeven. Zie ook onze cookieverklaring.
Geef je America Today toestemming om de hierboven geselecteerde cookies te gebruiken?