We are America Today and like you, we celebrate the idea that personality is really an ongoing journey. That's why we offer a variety of stylish, yet timeless clothing designed to keep you feeling comfortable in your own skin even as your world widens. And since you never know what the great, wide world will throw your way, we offer a wide range of flexible yet casual garments, all inspired by the American spirit of casual freedom.
From our signature bomber jackets and chill raincoats to incredibly huggable sweatshirts and a variety of vintage items. All are designed for that same "roll with the punches while feeling great" mentality. That way you can feel confident that the clothes you buy today, will still play a key role in your own personal style no matter where tomorrow takes you.
Our heritage
Since 1989 America Today has been bringing American style icons to customers in the Netherlands, Belgium and Germany. We have a long heritage of being a pioneer of style that represents an America-inspired, rebellious spirit of freedom.
WE ARE INDEPENDENT
We choose our own path and stay true to ourselves even as times change. We're not stubborn or rebellious just for the sake of being different, but we value those who, like us, have thoughtful opinions on things and are willing to share or act on them. Independence is a state of mind.
WE ARE LAID BACK
We have goals and work hard together to achieve them, but we always do so with a relaxed and open attitude towards our colleagues and our customers. We take what we do seriously, but not ourselves. And we make our way through life's changes, and our business challenges with a positive, light-hearted and casual optimism. Because hey, you never know where life will take you next. So enjoy the journey.
WE ARE AWARE
We are connected to the earth and to society as a whole. We demonstrate our awareness of these connections through our commitments in key topical areas such as building sustainability and universal respect for people everywhere.
Our inspiration
We've always been inspired by the optimistic, can-do mentality of the USA. We are intrigued by individuals and individual styles that reflect that certain quiet confidence. How they dress, their unique manner of mixing and matching garments to reflect their own personal style is, in its own way, a declaration of independence. While trends come and go, timeless confidence never goes out of style.
Our brand in a nutshell
Why does our company exist?
To bring the spirit of American freedom to Europe.
What do our customers care about?
Young adults who are evolving their own sense of style and identity.
How do our products and services serve our company purpose and customer desires?
US-inspired icons and relaxed classics designed for free mixing into a dynamic individual style.
Newsletter
Subscribe to our newsletter and receive 10% off on your next order.
Sign up and get a 10% discount!
Subscribe to our newsletter and receive 10% off on your next order.
You're already subscribed!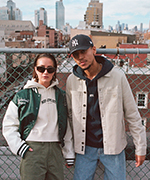 Sign up and get a 10% discount!
Subscribe to our newsletter and receive 10% off on your next order.
You're already subscribed!
America Today uses cookies on the website. We use technically necessary cookies, cookies to store preferences (functional cookies) and cookies to keep track of statistics (analytical cookies). In addition, we use cookies for marketing purposes, including tracking cookies. For more information, view our cookie statement .
With 'Accept all cookies' you accept all cookies, including marketing and tracking cookies. With 'Only functional cookies' you accept the functional cookies.
Your privacy is important to us
This website uses different types of cookies. Some cookies are placed by third party services that appear on our pages. See also our cookie statement.
---
Manage cookie preferences
Functional

We use necessary cookies to run basic functionalities of the site. These cookies never collect personal data.

Analytical cookies

Web analytics cookies are used to measure the use of the website. This includes browser type, type of device with which you visit the website, how often and for how long the website is visited and which functionalities/pages are used the most. This data is used to optimize the website and to create more user-friendliness.

Preferences

Preferred cookies ensure that a website can remember information that influences the behavior and design of the website, such as the language of your preference or the country where you live.

Marketing

These cookies can be used, for example, to display personalized advertisements on our and third-party sites by our advertising partners who can combine the data with their own information.