SUSTAINABLE PRODUCTS
Clothing production has an impact on the environment in so many different ways. Massive quantities of water, energy, and chemicals are used to grow or manufacture fabrics, and to dye and wash them. This leads to water pollution and CO2 emissions, among other things.
To protect the environment and the communities that live in it, we all need to consume less, care better for our clothing, and we at America Today want to offer you more sustainable choices. That is why we have developed our sustainable collection: Care For Tomorrow. This label indicates that a product has been produced using sustainable production processes, and/or contains sustainable fabric, or that the fabric has been obtained through Better Cotton. Our aim is to reduce our impact on the environment and to quickly expand the Care For Tomorrow collection.
Materials
We prefer to use sustainable materials for our clothing, and we plan on increasing our use of sustainable materials in the years ahead. With the current worldwide raw material shortage and rising production- and transport costs this will be challenging, but we like a good challenge. We will do anything we can to keep growing and most definitely not do a step back.
In 2021, 67% of our collection was already made from sustainable materials or sustainably sourced via Better Cotton.

Our aim for 2023 is that all our cotton will be organic, recycled, or sourced through Better Cotton. In 2025 we want to reach a total of 90% sustainable materials in our clothing.
We use a list that ranks all the sustainable materials and fibers we use, to guide us on our road trip to a better tomorrow. This list ranks fibers based on their environmental impact and is based primarily on the Modint Fiber Matrix (MFM). We use some materials that are not included in the MFM and classified them in the list as 'conventional'. We also added the materials we specifically choose not to use. We will continuously update the list according to the industry's standards and developments.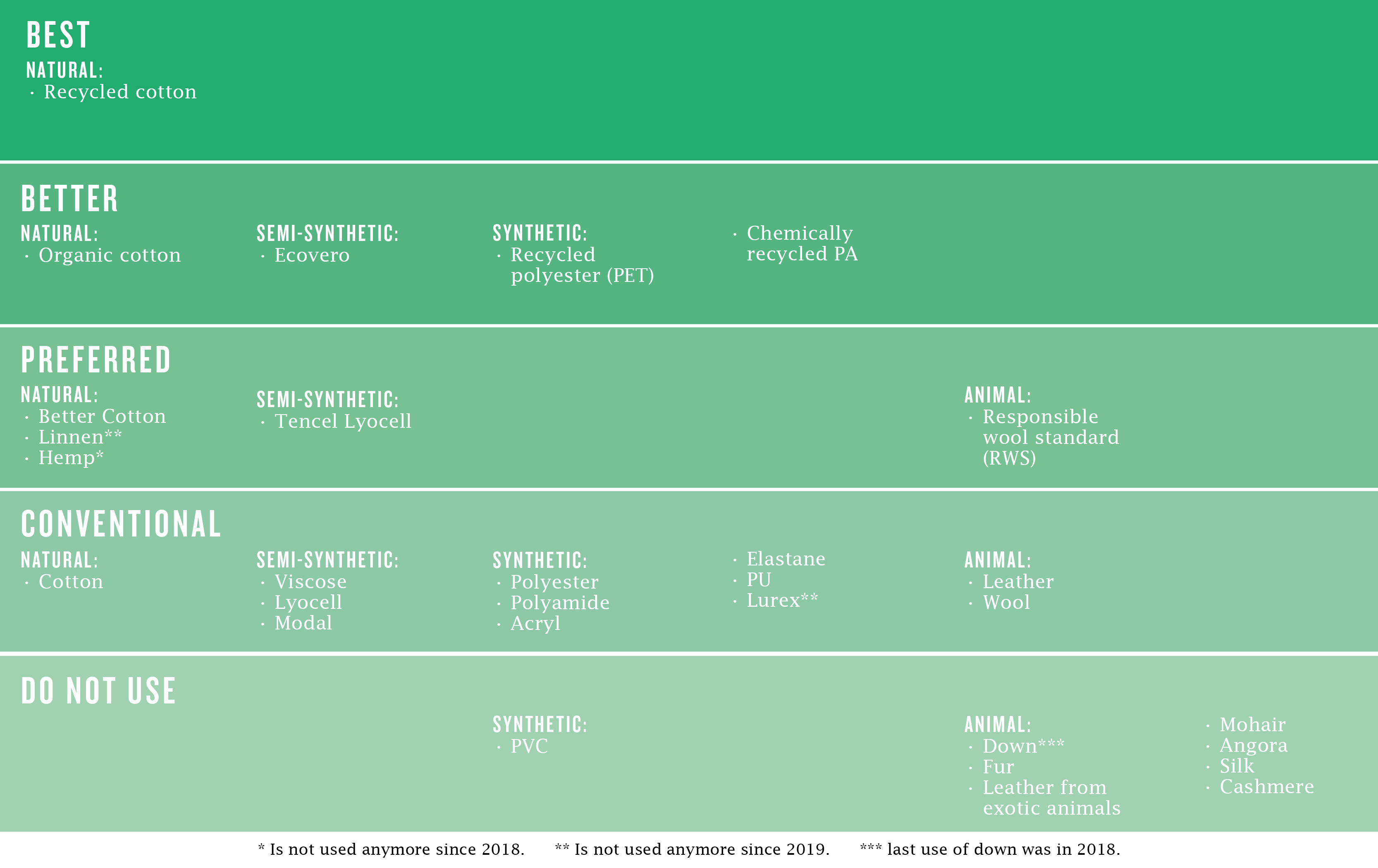 Organic cotton
We love organic cotton
Organic cotton has the same high quality as conventional cotton but is more environmentally friendly.
No toxic chemicals are used to grow it.
Organic production has the potential to decrease cotton's impact on global warming by 46% in comparison to conventional production methods.
Organic cotton uses 62% less energy than conventional cotton.
Our organic cotton clothing is always provided with a certificate that meets the recognized standards in the textile industry.
For more information about organic cotton, click here.
Better Cotton Initiative
America Today has been a proud member of Better Cotton since June 2018. Better Cotton trains farmers to use water efficiently, care for the health of the soil and natural habitats, reduce use of the most harmful chemicals and implement the principles of decent work. Better Cotton has calculated that, thanks to our contribution to Better Cotton, in 2022 an estimated:
206 million litres of water were saved
126 kg of pesticides were avoided
39 thousand EUR additional profit* was made by Better Cotton Farmers
*Better Cotton Farmers experience profit increases for a variety of reasons, most commonly due to increased yields and/or optimised use of inputs (such as irrigation water, pesticides or synthetic fertiliser).
Better Cotton is sourced via a system of Mass Balance. This means that America Today sources cotton via Better Cotton. It is produced by the farmer and sold to traders and yarn producers. Then the cotton fibers are mixed with other cotton. This means that Better Cotton isn't physically traceable to end products, but the Better Cotton Farmers benefit from the demand for Better Cotton in equivalent volumes to those we source. For stories from the field, read here.
Last year, 90% of our cotton was sourced through Better Cotton. Our aim for 2023 is that 100% of our cotton is sourced as Better Cotton, or has an organic or recycled certificate.
Recycled polyester
Recycled polyester is made from recycled waste such as plastic bottles and plastic packaging. By using recycled polyester, we are giving plastic waste a new lease on life and in doing so we are preventing it from being dumped in our beautiful nature.
The production of recycled polyester requires 59% less energy and is estimated to have 32% lower CO2 emissions compared to new polyester*
Our recycled polyester clothing is always provided with a certificate that meets the recognized standards in the textile industry.
Recycled polyamide
Recycled polyamide is made with waste products from other polyamide products such as old fishing nets.
The recycled materials reduce emissions by 26% compared to new polyamide*
Our recycled polyamide clothing is always provided with a certificate that meets the recognized standards in the textile industry.

Recycled nylon and recycled polyamide are the same.
Recycled acrylic
Recycled acrylic is made from acrylic waste. By using recycled acrylic, we give acrylic waste a new lease on life and prevent it from entering our nature.
Our recycled acrylic clothing is always provided with a certificate that meets the recognized standards in the textile industry.
Recycled cotton
By using recycled cotton, we extend the lifespan of a fiber that has already been made.
The energy consumption for producing recycled cotton is almost 20% less than for producing conventional cotton.*
Organic cotton clothing is always provided with a certificate that meets the recognized standards in the textile industry.
LENZING™ ECOVERO™ viscose
LENZING™ ECOVERO™ branded viscose fibers
Derived from sustainable wood and pulp, coming from certified and controlled sources.
The manufacturing of LENZING™ ECOVERO™ branded viscose fibers generates up to 50% lower emissions and water impact compared to generic viscose.
o All of our items containing LENZING™ ECOVERO™ are certified. LENZING™ and ECOVERO™ are trademarks of Lenzing AG. More information about LENZING™ ECOVERO™ can be found here.
TENCEL™ Lyocell
TENCEL™ branded lyocell are made from sustainable wood from certified and controlled forests. The processing of the wood pulp into fibers takes place via a closed-loop system, where up to 99 % of the process water and solvent are reused. TENCEL™ is a trademark of Lenzing AG.

o All of our items containing TENCEL™ lyocell are certified. More information about TENCEL™ Lyocell can be foundhere vinden.
Vintage by America Today
By purchasing vintage items, you increase the lifespan of good quality items.
All of our vintage items are specially selected from the US.
Be unique! Nobody will have the same item.
Vintage items are available in our stores. Check here which stores
Animal materials
We care about the wellbeing of animals. We have forbidden fur, exotic hides, down, silk, mohair, angora, and cashmere in our collections. We are on the Fur-Free List at Fur for Animals (Bont voor Dieren), and we are listed as an Angora Free and Cashmere Free Retailer at the People for the Ethical Treatment of Animals (PETA) Foundation.
We use a small percentage of leather and wool in our products (0.2% leather and 0.3% wool in 2021) and we are aware of the potential animal welfare risks associated with this, such as mulesing in the case of wool. To support a future without mulesing, we signed the Brand Letter of Intent from Four Paws. From the end of 2021 we started to work with leather that is vegetable tanned and that is produced at a Leather Working Group certified supplier.
Our animal welfare policy specifies that animals must be treated with care and respect and our business partners must comply with EU and national legislation on animal welfare, transportation, and slaughter and only source animal materials from farms with good animal practices, at least in compliance with the Five Provisions and Aligned Animal Welfare Aims. We aim to have full traceability of our wool and leather products by 2025.
Processes
In clothing production, lots of chemicals, energy, and water are used. We strive to use water, energy, and chemicals responsibly and to use less of these, so that we have a lower impact on the environment and people. We have a Restricted Substances List and Manufacturing Restricted Substance List that we share with our suppliers. In it, one will find our demands about harmful chemicals. Our environmental protection policy contains requirements and guidelines on the use of water and energy, among other things. The use of PVC is forbidden in our products.
Responsible denim
It is likely the most popular fabric ever: denim. Unfortunately, the production of denim has various risks. The production of jeans requires a lot of water, chemicals, and energy, such as in the washing process for example. The washing process is done to give the jeans the right "look and feel." Hazardous waste from these processes can end up in surface water. In a nutshell: denim production can have a negative effect on the earth. That is why we try step by step to make our denim production processes more sustainable.
From 2018 we started investigating how we can ensure sustainable jeans washes together with our suppliers. The result is our jeans with a "Low Impact" wash. Jeans are given a "Low Impact" score according to Environmental Impact Measuring (EIM) software from Jeanologia. EIM measures the impact from the process in four categories: water consumption, energy consumption, chemicals, and employee health. A low impact EIM score can be achieved by, for example, using recycled water, laser technology instead of chemicals, and energy-efficient machines. The benefit of the low-impact jeans can be found at the hangtags of the low-impact jeans.
In 2021, 26% of our total jeans had a low-impact wash. In 2019, only 17% of our men jeans was produced with a low-impact wash. It is our aim to reach 100% low impact jeans by 2025.
Our stock
We try to adapt our collections as much as possible to the taste and needs of our customers, so that we have less residual stock. Our surplus items and samples are sold to outlet stores or in sample sales or are donated. To read more about our donations, click here.
Newsletter
Subscribe to our newsletter and receive 10% off on your next order.
Sign up and get a 10% discount!
Subscribe to our newsletter and receive 10% off on your next order.
You're already subscribed!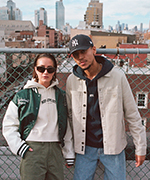 Sign up and get a 10% discount!
Subscribe to our newsletter and receive 10% off on your next order.
You're already subscribed!
America Today uses cookies on the website. We use technically necessary cookies, cookies to store preferences (functional cookies) and cookies to keep track of statistics (analytical cookies). In addition, we use cookies for marketing purposes, including tracking cookies. For more information, view our cookie statement .
With 'Accept all cookies' you accept all cookies, including marketing and tracking cookies. With 'Only functional cookies' you accept the functional cookies.
Your privacy is important to us
This website uses different types of cookies. Some cookies are placed by third party services that appear on our pages. See also our cookie statement.
---
Manage cookie preferences
Functional

We use necessary cookies to run basic functionalities of the site. These cookies never collect personal data.

Analytical cookies

Web analytics cookies are used to measure the use of the website. This includes browser type, type of device with which you visit the website, how often and for how long the website is visited and which functionalities/pages are used the most. This data is used to optimize the website and to create more user-friendliness.

Preferences

Preferred cookies ensure that a website can remember information that influences the behavior and design of the website, such as the language of your preference or the country where you live.

Marketing

These cookies can be used, for example, to display personalized advertisements on our and third-party sites by our advertising partners who can combine the data with their own information.